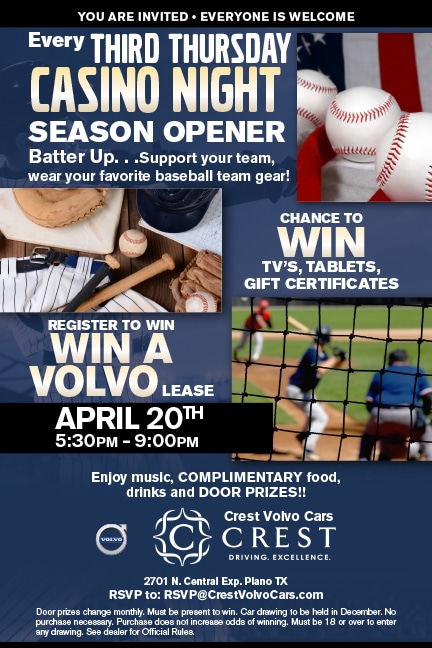 Batter up—it's time for another fun-filled Third Thursday Casino Party! We're kicking off the baseball season with a sport-themed celebration, so be sure to bring the whole team with you to our Dallas-area dealership on April 20.
Break out your favorite Rangers or Astros jersey and head down to home base at 5:30 p.m. sharp for food, drinks, music, door prizes and, of course, plenty of casino games! You won't have to pay for your peanuts and crackerjacks here—everything is completely free. Plus, if you can make it the whole night without striking out, you may just take home a new TV, tablet or other great prize.
While you're here, be sure to take a quick time out and enter our Volvo lease contest. Come this December, you may just hit a grand slam and drive off in a brand-new Volvo. There are no catches here; it's just another way we like to give back to our all-star customers.
To save you and your family seats at this exciting game night, all you have to do is send a message to RSVP@CrestVolvoCars.com. We hope you make the right call and join us this Third Thursday!