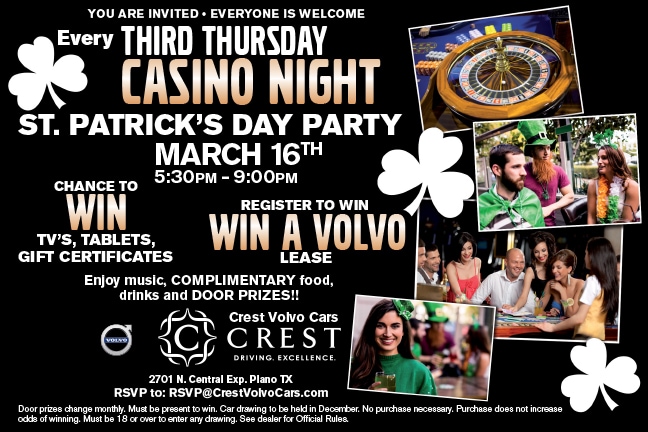 ​What's in store for you on the other side of the rainbow? Find out by attending this month's Third Thursday Casino Night Party! We're having our own free Paddy's Day celebration, and you won't want to miss out on the good fun and fortune.
On March 16, 2017, break out your green clothes and accessories, including your leprechaun hats, shamrock headbands and "Kiss Me, I'm Irish" t-shirts, and head over to 2701 N. Central Expressway. The celebration kicks off at 5:30 p.m., and we've got some golden door prizes to hand out.
You'll feel the luck o' the Irish as soon as you walk inside and collect your chips, and while we don't have an actual pot of gold to give away, our terrific prizes include TVs, tablets and gift certificates! We're also doing a lease giveaway, so be sure to fill out an entry for your chance to drive away in a brand-new Volvo this December.
In addition to Vegas-style gaming, we keep the place alive with the spirit of St. Paddy with shamrockin' music and complimentary food and drinks. Do a jig, enjoy a bit o' fun and make it a holiday to remember.
To RSVP, please send a message to RSVP@CrestVolvoCars.com! Everyone is welcome, so be sure to bring your friends and family along or they'll be green with envy.