If you have a Volvo vehicle that you need to tow behind another vehicle, the best way to go about that is to place it on a flatbed and get all four wheels off the ground. Unfortunately, that may not be an option for everyone all the time. There will come a time when your front wheel drive Volvo will need to be towed without the convenience of a flatbed, such as when your car has broken down or has been in an accident. When that happens, you need to know how to tow your car safely.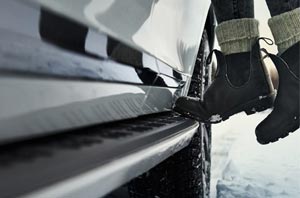 If you want to tow a front wheel drive Volvo, you need to use a tow dolly that secures the front wheels and keeps them off the ground. The vehicle should always face forward so that only the rear wheels will be in contact with the pavement. It's best if you can tow your Volvo behind another Volvo since you will have a tow dolly designed for both vehicles. If you must have your FWD Volvo towed by a truck in an emergency, be sure to let the truck driver know that you have a front wheel drive vehicle. The last thing you want is to have your car become damaged while it is en route to a shop to be repaired.
If you have any other questions about your front wheel drive Volvo or you need to learn how to tow it properly, we will be happy to help you. Contact our dealership today with any questions or concerns that you might have.