Over the years, car shoppers have come to recognize Volvo as one of the most enduring brands for safety. Volvo has built their identity on safety features, but not many people know the origins of how Volvo became famous for their stellar reputation in safety. We're going to cover the history so that hopefully you will have learned something new.
Humble Beginnings
When Volvo first began offering safety features, it started in 1959 when the company began developing a feature known as the three-point seatbelt, which shaped and molded Volvo's iconic reputation as an authority on safety features. The company has continued to do well in safety ever since. Niel Bohlin, an engineer at Volvo, is given the credit for developing this safety feature. He first introduced it with the PV544 Series. What's cool about this development is how Volvo gave us a prime example of what a company should be like. A good company exists to serve the public, and when Volvo developed this safety feature, instead of patenting it and keeping it to themselves, they designed the patenting rights so that all people could prosper from it. It's estimated that more than one million people have been saved since this invention.
Steps in the Right Direction
You might have thought nothing of it if the company had stopped there and gone no further, but instead, they took further steps in the right direction. Volvo continued to develop safety features to protect families worldwide. In fact, in 1972, Volvo pushed out more revolutionary technology that took the child safety seats and faced them rearward. This became an iconic design for the time because this type of seating protected the child's neck, head, and spine in the event of a crash. Were an accident to occur, the shell of the safety seat would redistribute the force across the car seat. Because of this invention, children up to two were five times less likely to die in a car accident. Volvo took these concepts and further developed them in 1976 when they invented the child booster seat. All of these developments came before they finally made the leap to an integrated booster seat in 1990.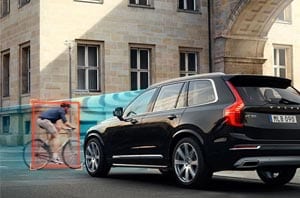 Where Did Volvo Go from There?
If you believe that Volvo stopped there with the development of safety for drivers, you'd be mistaken because the company continued to make ongoing improvements that made the road safer for everyone. In fact, in 2008, as autonomous driving first kindled a spark among the automotive community, Volvo developed features like autonomous braking and deceleration to protect people on the road. The company has been a beacon of example and what many other companies should do for the local community and the global community. When the brand first started selling the Volvo XC90 to the United Kingdom in 2002, they sold more than 50,000 vehicles from this model, and not a single occupant from this model has ever been killed in an accident. That goes to show how much this company values the safety end of things.
Would you like to learn more about how Volvo can help you to have an extra safety on the road? If you're interested in learning more, Crest Volvo Cars is waiting to serve. We do our best to follow Volvo's selfless example in helping to serve the community. When people go through us, we like to say that we express our values through our business because we first educate them on the brand. After they have been informed to make a decision, we step back and let them make the decision.