Have you been searching for a great new hybrid? Are you wondering how you can choose a fantastic car that stands out from the crowd? Whether you're looking for something unique, something technologically advanced, or a vehicle that offers a smooth ride, you'll find it all in the new Volvo S60 Hybrid.
This vehicle is a performance vehicle designed to offer you an incredible ride. Whether you're going on a two-week road trip, cruising around town, or running errands with your family, you'll find it has everything you need to make a fantastic experience.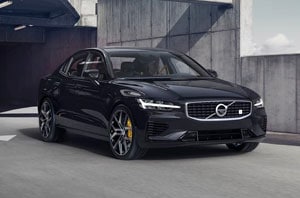 The S60 is a performance sedan designed to give you the power you need to succeed. A plug-in hybrid powertrain will get you where you need to go as powerfully as possible. This vehicle includes an upgraded suspension system to ensure great road-handling capabilities. You'll also enjoy new and improved braking components to maintain the high level of safety expected with Volvo vehicles.
Ready to find the right performance vehicle for your needs? We're here to help. Visit our showroom or give us a call today to discover how you can make the S60 your own. We'd love to talk with you about the customization options, features, and how this incredible performance hybrid can offer you the power you've been craving. Afterall, you deserve the best and with the Volvo S60, you'll get it.