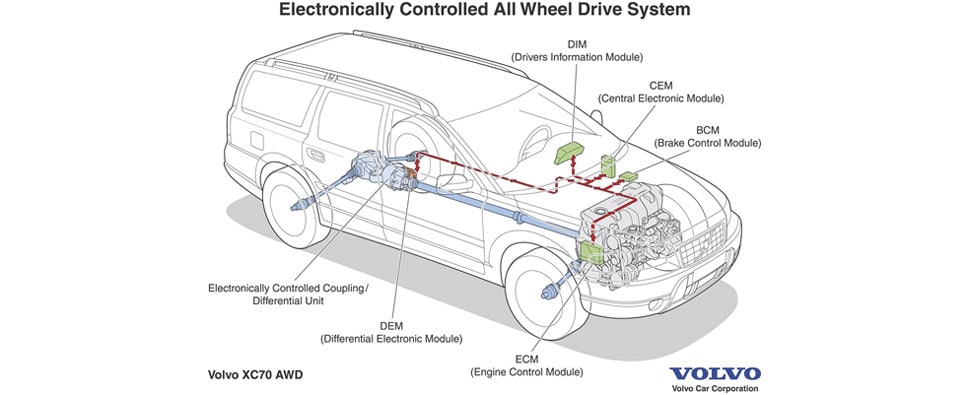 Volvo's AWD systems provide enhanced performance in slippery road conditions and bad weather. The AWD system gives you more precise handling when traveling on wet or icy pavement. When you're on dry pavement, the Volvo system switches to the front wheels for the best fuel efficiency and stability. Let's find out more about how Volvo's AWD systems work.
There are several different variations of Volvo AWD systems. The first one used was called the GKN Viscous Coupler. The next five variations are all generations of the Haldex AWD system. Modern Volvos from 2009 on typically have fourth and fifth-generation Haldex AWD systems. As these are the most current, let's take a look at how they work.
The Haldex Fourth Generation AWD system is almost the same as the third-generation system, except that it gets rid of the mechanical, hydraulic pump. The third generation was the first pro-active Volvo AWD system, and the fourth generation is the same. As soon as you start the engine, an electric pump gives advanced pressure to the transfer clutch in the AWD system.
Once the computer responsible for traction control senses slippage from the wheels, the clutch immediately engages and throws torque to the rear wheels. Since the clutch already has pressure behind it, this is an instant response. That's why Volvo markets the AWD system as Instant Traction.
The fifth generation of the Haldex AWD system offers a more straightforward construction and tighter component integration. Previous generations of the AWD system used mechanical or electronic pump sets to control the pressure. The fifth-generation only uses a hydraulic pump controlled by a computer, which eliminates the need for the accumulators and solenoids.
If you'd like to learn more about Volvo AWD systems and how they work, visit our dealership today.