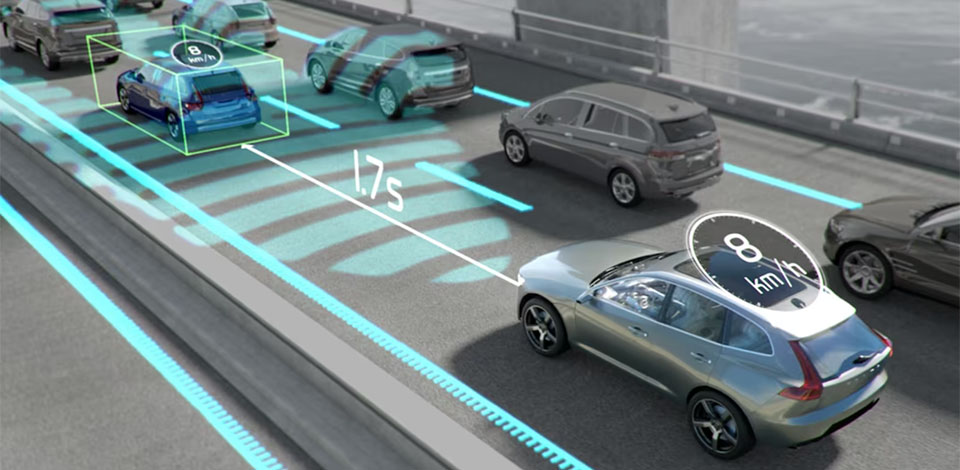 Volvo has risen to the top of its industry, largely thanks to its commitment to safety. The Swedish car company seeks the latest and greatest technologies to give customers the safest ride possible.
IntelliSafe
It is a suite of safety technologies that include Adaptive Cruise Control, Curve Speed Adaption, Pilot Assist, and Distance Alert. Adaptive Cruise Control is a standard safety feature that refers to the car's ability to maintain a safe distance from other vehicles in traffic. It monitors surrounding cars using radar and applies braking and acceleration if necessary.
The distance alert feature activates a warning to assist you in maintaining a safe distance if Adaptive Cruise Control is disengaged and a car approaches too closely. In vehicles with a Head-Up Display, this feature is available.
While the driver always maintains control, Pilot Assist is designed to offer collaborative, intelligent, and directable support. Pilot Assist raises safety margins and lessens driver fatigue in tiresome driving scenarios. The technology offers improved lane positioning, speed and distance keeping, and lane consistency. When activated, the technology also improves emergency braking and steering performance, which is helpful if a collision is going to occur.
City Safety with Collision Warning
Volvo comes with this driver support system to help the driver be alert to pedestrians, bicycles, and vehicles that may suddenly appear in front of the car. If the driver cannot react quickly enough, Volvo might warn you by displaying an alert, making a sound, or braking independently. If a collision is near and the driver does not respond in time, the function helps the driver by automatically deploying the brakes.
Run-Off Road Mitigation
This feature will warn you if your car begins to veer unintentionally off the road. If you ignore the warnings, your car will gently turn and brake to help you get back on course and help prevent a collision.
Blind Spot Information System
This alerts you if a vehicle is in your blind spot, allowing for safer reversing and evasive maneuvers. The system uses radar sensors mounted in your Volvo, which can detect nearby vehicles approaching or following you. This system gives an audible warning and displays to alert you.
Rear Collision Warning
This system uses a camera attached to the back of your car. It monitors the traffic behind you and detects vehicles that are too close. It then displays a warning for you or automatically applies the brakes if a collision is imminent.
Visit Us in Frisco, Texas Today
For more Volvo safety features and other information, visit our dealership in Frisco today.