Volvo of Dallas is elated to be the leading source for the Volvo C70 in Texas. Volvo of Dallas is a Dallas Volvo dealership and carries a colossal inventory of New Volvo C70 and top quality, high value used Volvo C70s and other cars & trucks.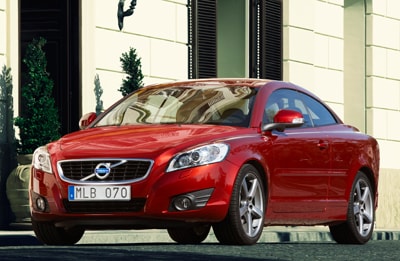 When buyers compare the Volvo C70 to other makes like the BMW 3 Series, Ford Mustang Convertible and Chevrolet Camaro Convertible, the 2012 Volvo C70 shines as the most fun-to-drive. Starting with the 2012 Volvo C70, owners found this affordable Convertible's crisp handling and lively acceleration to be reason enough to choose.
For consumers interested in a fun to drive convertible car, the new 2012 Volvo C70 is a terrific option. Redesigned for the 2012 model year, the sporty Volvo C70 coupe flaunts a luxurious cabin design and an excellent set of amenities. With only one available trim, the C 70 Volvo is singular in style and class. This affordable hard-top convertible is equipped with a long list of features including: automatic dual-zone climate control, Bluetooth, satellite and HD radio, eight-way power front seats with driver memory functions, and full power accessories. The 2012 Volvo C70 coupe can also be outfitted with numerous features packages and a number of stand-alone upgrades. The Convenience package adds features like rear parking sensors and keyless ignition, while the Multimedia package tacks on a high-tech navigation system with real-time traffic and a 14-speaker Dynaudio surround-sound audio system. Other available options include the Climate package and Dynamic package. The 2012 Volvo C70 and C30, along with a large selection of other used and new Volvo cars can be found at our Frisco Volvo dealership, Volvo of Dallas.
The reasons why the Volvo C70 should be your choice upscale midsize car in delightful TX
Volvo of Dallas offers the Volvo C70, a 2-door Convertible which seats 4 people satisfactorily. The C70 weighs 3,640 pounds, is 180.4 inches long, 72.3 inches wide, 55.1 inches high, and the Volvo C70's turning radius is 19.4 feet. highly uncrowded for its class, the C70 has 38.2 inches of headroom in the front, as well as 42.3 inches of legroom. In the C70's back seat, there are 36.4 inches of headroom and 33.9 inches of legroom. Need to bring a lot of luggage on your next trip? The C70 trunk holds up to 12.8 cubic feet of your gear. So, take a breather and enjoy!
Standard Volvo safety features included in the C70 are: traction control, anti-lock brakes, side airbags, driver airbags, side-impact bars, seat-belt pre-tensioners, and passenger airbags. With all of these features, the Volvo C70 is always extraordinarily rated by the IIHS and NHTSA.
The C70 also has an abundance of comfort and convenience features including: power steering, remote locks, power windows, power mirrors, climate control, cruise control, air conditioning, power seats, an adjustable steering wheel, and more! Especially convenient are the available hands-free phone and navigation systems. Test drive the Volvo C70 in Dallas at Volvo of Dallas.
Like all Volvo cars & trucks, road handling and performance are top priorities for the C70. Passing horsepower in the base C70 is 227 bhp @ 5000 rpm, and it produces excellent torque - 236 ft lb @ 1500-5000 rpm foot pounds/rpm. The C70 accelerates swiftly from 0 to 60 mph in just 7.5 seconds. If you want to go fast, the C70 has a top speed of 130 miles per hour. Despite this excellent power train output, the Volvo C70's fuel economy is rated at 19 miles per gallon in the city and 28 highway miles per gallon. With a fuel tank capacity of 15.9 gallons, the C70 cruising range is well above average, truly making it a performance car!
The Volvo manufacturer's warranty covers the C70 for manufacturing defects and has a 4 Years / 50,000 miles Volvo warranty. Volvo has worked for years to minimize its environmental impact, and the C70's carbon footprint is rated very low. Not surprisingly, with all of these C70 advantages, this great Volvo Convertible retains a high percentage of its value at 3 years and 36,000 miles, which makes the Volvo C70 a great used buy!
When seeking a safe, economical, sporty and stylish Convertible, Frisco buyers should head to the Volvo dealer of choice, Volvo of Dallas at 6600 State Highway 121 in Frisco TX.
Volvo C70 service information for Dallas
Volvo C70 owners and lessees in Dallas have found that Volvo of Dallas at 6600 State Highway 121 in Frisco is the very best choice for C70 warranty work, regular maintenance & inspections, and mechanical repairs. At Volvo of Dallas, Certified Volvo Technicians trained in the very latest diagnostic and corrective techniques work for only one thing - your complete satisfaction. Whether it's time for your Volvo to have an oil change or tire rotation, or if you need regular C70 Scheduled Maintenance, Volvo of Dallas is your first choice. Wheel alignments are another specialty of our Certified Volvo Techs, and here at 6600 State Highway 121, we are the smartest choice in Dallas for quick, courteous, and professional Volvo Service of all kinds.
If you'd like to make an appointment to have your C70 serviced, click the link or just give us a call. See you soon.