Welcome to our brake service portal! From here you can schedule an appointment for brake repair at our shop in Plano, view current service specials, or place an order for OEM Volvo brake pads and other parts. Also view our brake repair recommendations and tips below.
How often do Volvo brake pads need to be replaced?
When it comes to service intervals for brake pad replacement, it's best to base it on the thickness left in the pads, since driving behavior and other factors can greatly affect how soon pads wear out. Our Volvo brake service center has a few recommendations.
How thin can brake pads get before needing to be replaced:


In most cases, a thinness of 3mm is a warning sign. After this point, you could risk scoring your rotor discs, which are more expensive to repair than pads.

How often should brakes be inspected:


It's recommended that drivers have their car brakes inspected at a minimum of once a year to monitor wear.

High-pitched screech when pressing brake pedal:


This means that your Volvo brake pads have worn to the point that the brake wear indicator is engaged. It produces this sound as a warning that the pads need to be replaced. When you hear this, bring your Volvo car or SUV to us for brake repair in the Dallas area
How often should I change my brake fluid?
This again varies based on driving behavior and the vehicle you own, but brake fluid flushes can be necessary every two or three years. Having the fluid inspected each year is the best way to keep track of its condition.
What happens if I skip brake fluid flushes?
When it comes to Volvo brake service, fluid is sometimes the last thing one might think of, yet it's incredibly important. Since brake fluid is hydroscopic, meaning it collects moisture, there will come a point when it becomes less effective at preventing rust. In addition, excessive water in the fluid can lead to vaporization, which has been known to cause brake failure.
When do brake rotors need to be replaced?
Damage to rotor discs is shown in several ways. If you ever run into the following problems, visit Crest Volvo for brake repair in Plano, Texas.
Signs of warped rotors:


Your Volvo's rotor discs may be warped if you notice vibration when hitting the brake pedal or if your vehicle pulls to the side when you brake.

What happens when rotors grind?


Grinding may occur when the brake pads have been worn away or worn very thin. When this happens, the caliper and rotor meet, which means there's metal-on-metal scraping. This can cause fading (i.e., significantly less responsiveness from brakes) because of heat creation, or scarier yet, it can cause the brakes to lock up.
Brake Service near Me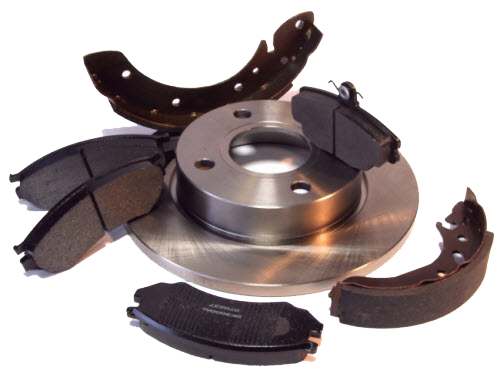 Whether you're looking for a reputable brake shop in the Dallas-Fort Worth Metroplex or want to order OEM Volvo brake pads, Crest is here to help with all of your vehicle maintenance needs. If you require brake pads for a Volvo S90, XC60, XC90 or another model in the lineup, schedule an appointment for brake change service today or contact us now to order parts!
Also take a moment to browse Crest Volvo's latest service specials to see if we have any brake fluid flush or front brake pad replacement coupons online this month.