Dallas Volvo Dealer Reviews the 2015 S60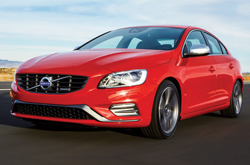 We've taken a look at what's new in the 2015 Volvo S60 in Dallas and we're seeing some exciting new powertrain choices to woo premium midsize sedan shoppers. For starters, the new 240-horsepower turbocharged 4-cylinder engine is paired with a fuel-saving 8-speed auto-stop/start transmission, which offers ample measures of both power and fuel economy. If that doesn't whet your whistle, Volvo ups the ante with a 302-horsepower alternative. Each of the new engines offer significant increases in fuel efficiency and performance, making either one an excellent option for most Dallas drivers. Both these new engines are available in front-wheel drive models only, but if all-wheel drive is your preference, you'll find the power-to-economy ratio extremely satisfying in the S60 AWD models as well. Read on as we continue this 2015 Volvo S60 review for Dallas car shoppers and highlight some pretty terrific features and specs.
If you've car-shopped with safety in mind before, you're probably familiar with Volvo's excellent reputation for building safe automobiles. The 2015 S60 earns the rep, commanding 5-star NHTSA safety ratings across all categories. An available technology package includes state-of-the-art advanced proactive safety measures such as lane departure warning, adaptive cruise control, forward collision warning and auto-dimming headlights.
Beyond safety lurks elegant style and premium comfort that may surprise you if you haven't been keeping tabs on recent Volvo design updates. Test drivers were wowed by the extremely comfortable front seats with bolstered upholstery offering firm, yet gentle cushioning for a relaxed all-day driving experience. Interior ambiance is enhanced by modern streamlined styling and upscale materials. The base trim offers a nice set of standard inclusions like power-adjusting front seats, a 7-inch color control interface for an 8-speaker sound system, USB and Bluetooth connectivity, rain-sensing wipers and headlight washers. You'll also find copious upscale options in the new Vovlo S60. Dallas "freezie-cats" can have pretty much everything heated - from the steering wheel and windshield to both front and rear seats. Available features vary by trim level and include rearview camera, park assist, dual xenon headlamps, power moonroof and voice-controlled navigation.
Continue with our Volvo S60 review below where you'll find an independent car comparison tool, an S60 walk-around video tour and additional S60 specifications. You may wish to browse varying featured Volvo S60s for sale in Dallas linked below or perhaps schedule a test drive at Volvo of Dallas to experience the ultra-quiet ride of a 2015 S60 for yourself.