About the Volvo XC70 in Plano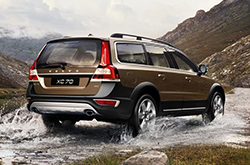 The all-new 2016 Volvo XC70 was created for adventure. Whether your definition of adventure is an off-road experience or a raucous night on the town, the efficient, powerful and safe XC70 is ready to provide you with the perfect luxury wagon for all of life's amusements. And, with the ample space and smooth ride, the Volvo XC70 blends the easy handling of a car with the accessible capacity of an SUV. Test drive a 2016 Volvo XC70 in Plano today and discover that when it comes to safety and excitement, you can have your cake and eat it, too.
The standard 2.0-liter four-cylinder engine offers impressive values of 245 horsepower and 258 lb-ft of torque, power that is not found in most rivals. Dallas-area commuters can use the all-wheel-drive system and an efficient eight-cylinder automatic transmission with optional paddle shifters to maximize sport and utility. Plus, 2016 Volvo XC70 reviews talk about the impressive fuel efficiency of the XC70, which is largely due to the Drive-E engine and smart efficiency technology.
When it comes to safety, the Intellisafe program's technologies will detect and automatically brake when a collision seems imminent. Additionally, the smart road sign technology and active high beam control can make operating the Additionally, whether you wish to pay for parking from the car, discover nearby restaurants, discern your car's location via a Smartphone app or pre-cool your vehicle, the XC70 offers the latest technology to carry out daily activities quickly and conveniently. Now with Volvo Sensus Connect, the world of information is available in the refreshed center interface in the XC70. Furthermore, Bluetooth connectivity guarantees that drivers can communicate with the outside world without ever taking their eyes off the road. Another premier technological feature, Volvo On Call ensures that drivers can use a mobile application to communicate with their car directly. In addition to incredible safety and technological features, the 2016 Volvo XC70 in Plano also comes standard with folding rear seats, load securing loops, off-road skid plates and additional premium standard features.
Because of its perfect blend of utility, agility, innovation and security, the 2016 XC70 is ready for all of life's enterprises, big or small. Try out an XC70 today at Crest Volvo Cars and discover why 2016 Volvo XC70 reviews call it a top choice in the wagon segment.